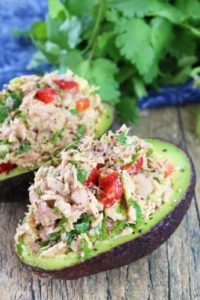 The news mentioned we would need to buy 25 BILLION avocados from Mexico in order to build the wall. Or if you sit on the other side of the "wall" you could buy only American from California. However you choose to procure those emerald beauties, use this recipe to enjoy all the goodness they have to offer. Thank you Colleen for this great recipe!
Beyond how great this lunch tastes, avocados are a super healthy choice! A great source of the good fat and have more potassium than bananas. These little beauties are also a great source of vitamin K, C, B6 and E.
Thank you to "The Stay at Home Chef" blog for creating this recipe. Rachael has a Thai version as well as the Mexican recipe. Is it lunch time yet? I'm in!!!
Healthy Tuna Stuffed Avocado
Prep time
10 mins
Time to Make It
10 mins
Author: Rachel Farnsworth
Yield: 1 to 2 servings
Ingredients
• 1 avocado, halved and pitted
• 1 (4.5 oz) cans tuna, drained
• ¼ cup diced red bell pepper
• 1 tablespoons minced jalapeno
• ¼ cup cilantro leaves, roughly chopped
• 1 tablespoon lime juice
• salt and pepper (to taste)
Scoop out some of the avocado from the pitted area to widen the "bowl" area. Place the scooped avocado into a medium-size mixing bowl. Mash it with a fork.
Add the tuna, bell pepper, jalapeno, and cilantro to the mixing bowl. Pour lime juice over. Stir it all together until everything is well mixed.
Scoop the tuna into the avocado bowls. Season with salt and pepper.