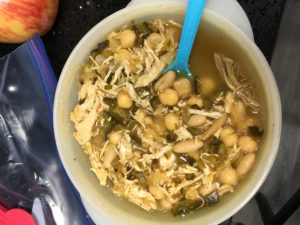 Since I've been asked by a few people now for the recipe for the White Chicken Chili I made from our Grand Opening, I thought I would just post it! Takes a little time to shred the chicken and chop the peppers, but the fresh flavor was worth it! Enjoy!!
White Chicken Chili
1 can white kidney beans
1 can garbanzo beans
1 tablespoon canola oil
1 medium jalapeno pepper, minced
2 medium poblano peppers, chopped
1 large onion, chopped
4 garlic cloves, minced
Salt and black pepper
1 tablespoon ground cumin
1 1/2 teaspoons ground coriander
1 teaspoon chili powder
4 cups low-sodium chicken broth
2 limes, juiced
2 chicken breasts, skin removed and meat shredded
1/4 cup chopped cilantro leaves
Tortilla chips, coarsely crushed, for topping
Drain and rinse the canned white beans. In a medium bowl, mash half of the beans with a potato masher until chunky. Reserve the beans until needed.
Add the canola oil, peppers, onions, and garlic and saute until soft and fragrant, about 5 minutes. Season the vegetables with salt, and pepper. Add the cumin, coriander, and chili powder and continue to saute for 1 more minute. Stir in the chicken stock, and lime juice and bring to a simmer. Add the beans and continue to simmer for 20 more minutes. Stir in the shredded rotisserie chicken and cilantro and simmer until heated.