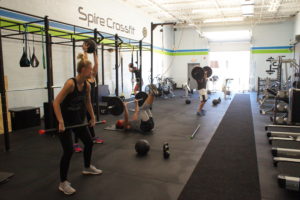 Welcome to Spire CrossFit!
We are Open!!
7890 S Quincy, Willowbrook, IL  60527
CrossFit is a methodology of fitness to increase the health and physical well-being of anyone ready for a challenge. The mixture of functional movements is designed to create a well rounded athlete by not focusing on a specific realm of development, but a constantly varied set of skills. The work outs are scaled to each individual to maximize their progress in a safe and fun environment and encouraged through the welcoming and encouraging community of support. Our staff of trainers oversee the progress of every client throughout their training to increase strength, conditioning, mobility, flexibility and so much more. Spire CrossFit training aims to build bodies capable of anything life can throw at them.
Want us to keep you in the loop about class schedules, pricing and gym fun? Click here to add you to our mailing list!