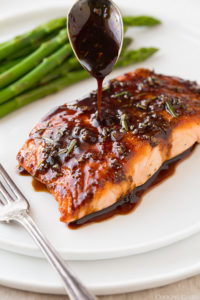 Hope everyone had a wonderful Easter weekend. After the deluge of food that was consumed from what I hear, it's time to get back to work! Fish is a great source of protein and alternative to the heavier options popular for the Easter dinners. This is my favorite way to prepare salmon and the glaze can be put on any meat! Spring is the time of fresh starts – lets restart that clean food focus and get back to work in the gym!! Enjoy …
Balsamic Glazed Salmon
1/2 cup balsamic vinegar
1/4 cup red wine
1 Tbsp dijon mustard
1 Tbsp chopped fresh or crushed dried rosemary
1 clove garlic, finely minced
4 (6 oz) salmon fillets
Salt and freshly ground black pepper
2 tsp olive oil
Salt and pepper both sides of fish. Heat oil in pan. Place salmon in pan and cook about 3 minutes per side depending upon the thickness of the fillets.
While the salmon is cooking, heat vinegar, wine, mustard, rosemary and garlic in sauce pan on stove top on medium heat and reduce to about 1/2 original volume. Sauce will thicken and look somewhat like loose tar. 🙂
When salmon is cooked on both side, serve with sauce poured over fish. Bon apetit!!