This is the recipe that changed my family dinners. NEVER before would my kids touch that toxic vegetable otherwise known as brussel sprouts! How easy it has been to change their view with just one recipe. OK – I will fully admit that this is not the healthiest recipe I have posted, yes, it does have some cream and the beloved substance called bacon! But let's keep things in perspective – I now have 2 children that voluntarily eat brussel sprouts and go back for seconds! Give this recipe a try – you won't regret it – great one for Easter not that far off!!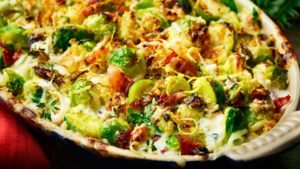 2 pounds brussel sprouts, cleaned and trimmed
1/2 – 1 pound bacon – thick cut, cooked and cut in small pieces
salt and black pepper to taste
1/2 cup heavy cream
1/8 cup Italian seasoned bread crumbs
1/4 cup grated fresh Parmesan cheese
2 Tbs butter cut into small pieces
Preheat oven to 400 degrees, lightly grease a baking dish.
Boil a large pot of water – cook sprouts in water for approximately 8 minutes, drain and then immediately rinse with cold water. Cut them in half or quarters depending upon sprout size.
Put sprouts in greased pan and sprinkle with salt and pepper. Pour cream over sprouts, then sprinkle with bacon, then cheese, then bread crumbs, then broken pats of butter.
Bake 20-25 minutes. Enjoy!!